Morgan Thermal Ceramics' FireMaster® fire protection range was specifically designed to meet the structural fire protection needs of the marine industry, offering high performance and lightweight structural fire protection.
FireMaster® flexible, lightweight blanket products are made without chemical binders, and will not produce toxic smoke or isocyanates in fires. They are widely used for bulkhead and deck fire protection in fast ferries, cruise ships and luxury yachts. Morgan Thermal Ceramics is the market leader in high-speed craft fire protection.
FireMaster® products are comprehensively certified and tested to international standards, offering our customers the security of proven fire performance. Supporting worldwide approvals are in-service references from a market that we have served for over 30 years, including documented cases of exposure to real fires.
FireMaster® products are capable of extended operation at high temperatures. This means our fire protection solutions can be thinner, lighter or simply more cost-effective choices in applications where fire temperatures can reach nearly 1,400°C.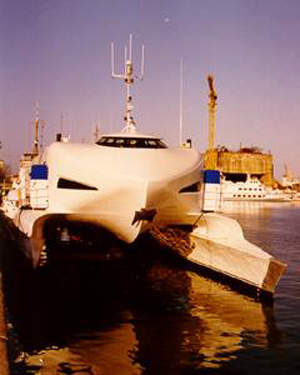 IRIS Catamarans, France. Inter-Island shuttle composite construction hull and superstructure fire protected with FireMaster® Blanket for 60 minutes.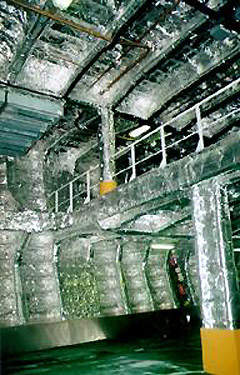 Aluminium car deck structure. Fire protection to 60 minutes HSC code using FireMaster® Blanket. IZAR, Spain.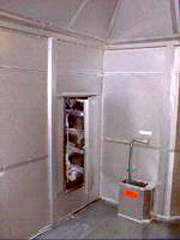 Rapid Access panel system provides 60 minutes structural protection to aluminium structures.
FireMaster® 607 Blanket is a flexible, non-combustible, lightweight fire protection material.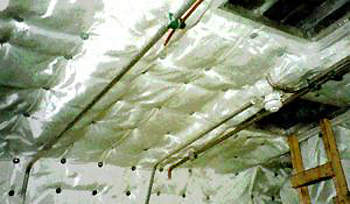 Structural fire protection of engine room using glass cloth faced FireMaster® blanket.
FireMaster® fire protection products
FireMaster® Marine Plus Blanket is the new lightweight fire insulation from Morgan Thermal Ceramics, offering lightweight fire protection for steel, aluminium and composite ships.
FireMaster® 607 is a range of low biopersistence fibre insulating products consisting of flexible blankets, boards, FireFelts, papers and expanding felts.
FireMaster® DUCTWRAP® is a foil-enclosed FireMaster® blanket designed for wrapping grease or ventilation ductwork.
FireMaster® FireBarrier provides cementitious, spray-applied fire protection for steelwork, process vessel and tunnel fire protection.
Fire safety certification and approvals
FireMaster® Marine Plus Blanket systems have DNV and EU MED approvals for structural fire protection of steel, aluminium and sandwich panel composite structures. FireMaster® 607 and Marine blanket have numerous international type approvals and EU MED approvals.
Bulkhead and deck fire protection
Morgan Thermal Ceramics produces fire protection products for steel, aluminium and composite bulkheads and decks:
Steel bulkheads and decks: FireMaster® blanket from A30 to H240
Aluminium bulkheads and decks: FireMaster® blanket or ALU-CLAD system from A30 to A60
Aluminium bulkheads and decks: rapid access panel system for A60/60 minute HSC
Composite bulkheads and decks: FireMaster® blanket for 60 minute HSC code
Certified solutions to provide 'fire restricting' insulation to composite structures in accordance with the ISO room corner fire test requirements
FireMaster® bulkhead and deck systems are cost-effective: installation savings and less thickness or lower density add up to installed cost savings of up to 20% compared to traditional rigid batt systems. Typical weights of A60 aluminium systems are 3.5 kg/m², less than 7 kg/m² for 60 minute composite sandwich panel fire protection and 2.8 kg/m² for A60 steel decks.
Other fire protection applications
Blanket and board materials for fire doors
Jet fire protection of pipes
Cellulosic and hydrocarbon fire protection of structural steelwork
Ductwork fire protection
Hydrocarbon fire protection of bulkheads, decks, pipes, process vessels, cable trays and storage tanks
Fire protection of tunnels
Fire, thermal and acoustic insulation
FireMaster® 607 blanket offers combined fire, thermal and acoustic insulation, making it ideal for structural fire protection of super yachts. Superwool® blanket is used for thermal insulation of engine exhausts. Morgan Thermal Ceramics manufactures a very large range of insulation and refractory products used in almost every industrial sector.
For more information, a copy of our fire protection CD ROM or technical advice, visit the website, where you can obtain full technical data and the address of your nearest fire protection specialist.