Pemamek Ltd. is a world-leading company specialising in the supply of heavy welding production and automation solutions for efficient shipyard production all over the world.
Know-how and a competitive edge at Pemamek rest not only on long-term experience but in the bold application of new technologies as well. The guiding stars behind our products are client-related competitive ability, quality in production, ergonomics, and safety.
Pemamek operates in international welding automation markets. Our wide range of products is found in over 50 countries and in all continents.
Shipyard automation production equipment
In order to maintain a competitive edge at shipyards, efficient production is required. Pemamek provides complete, modern and productive production lines for flat panels, double hulls, subassembly panels or just sections of them.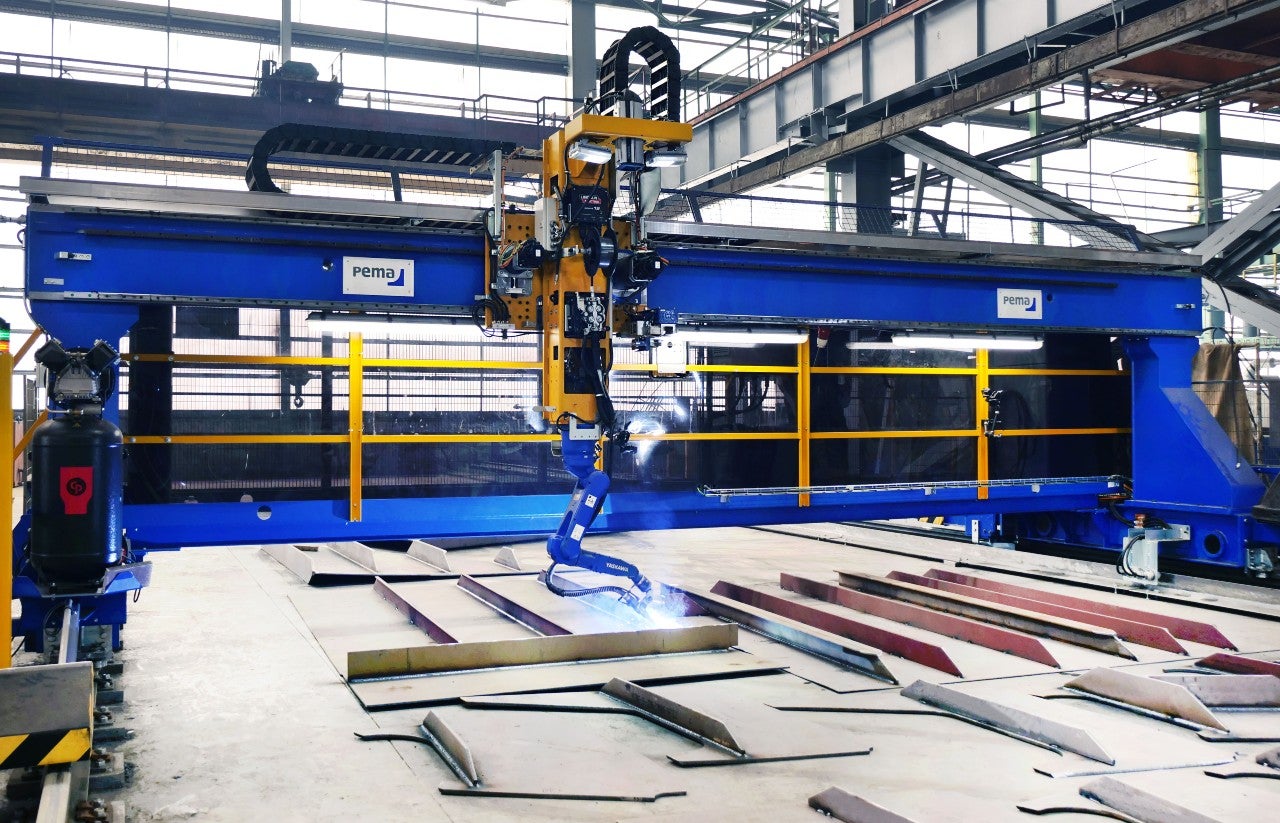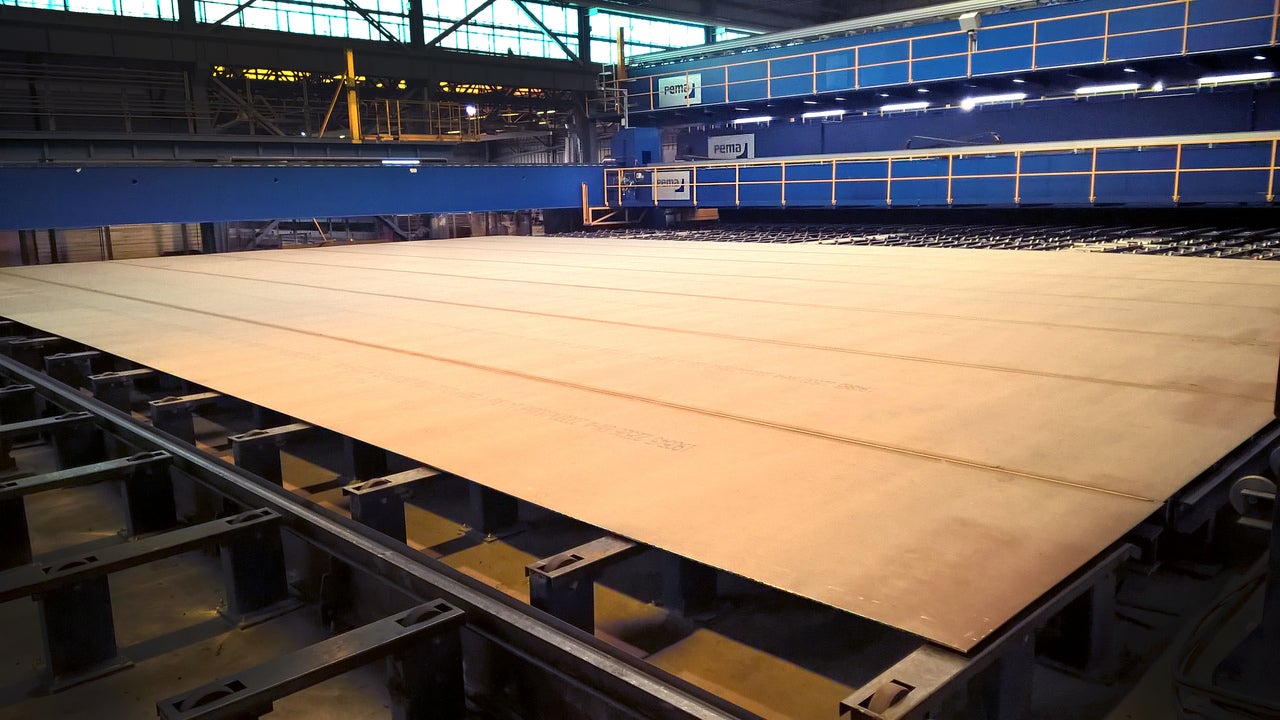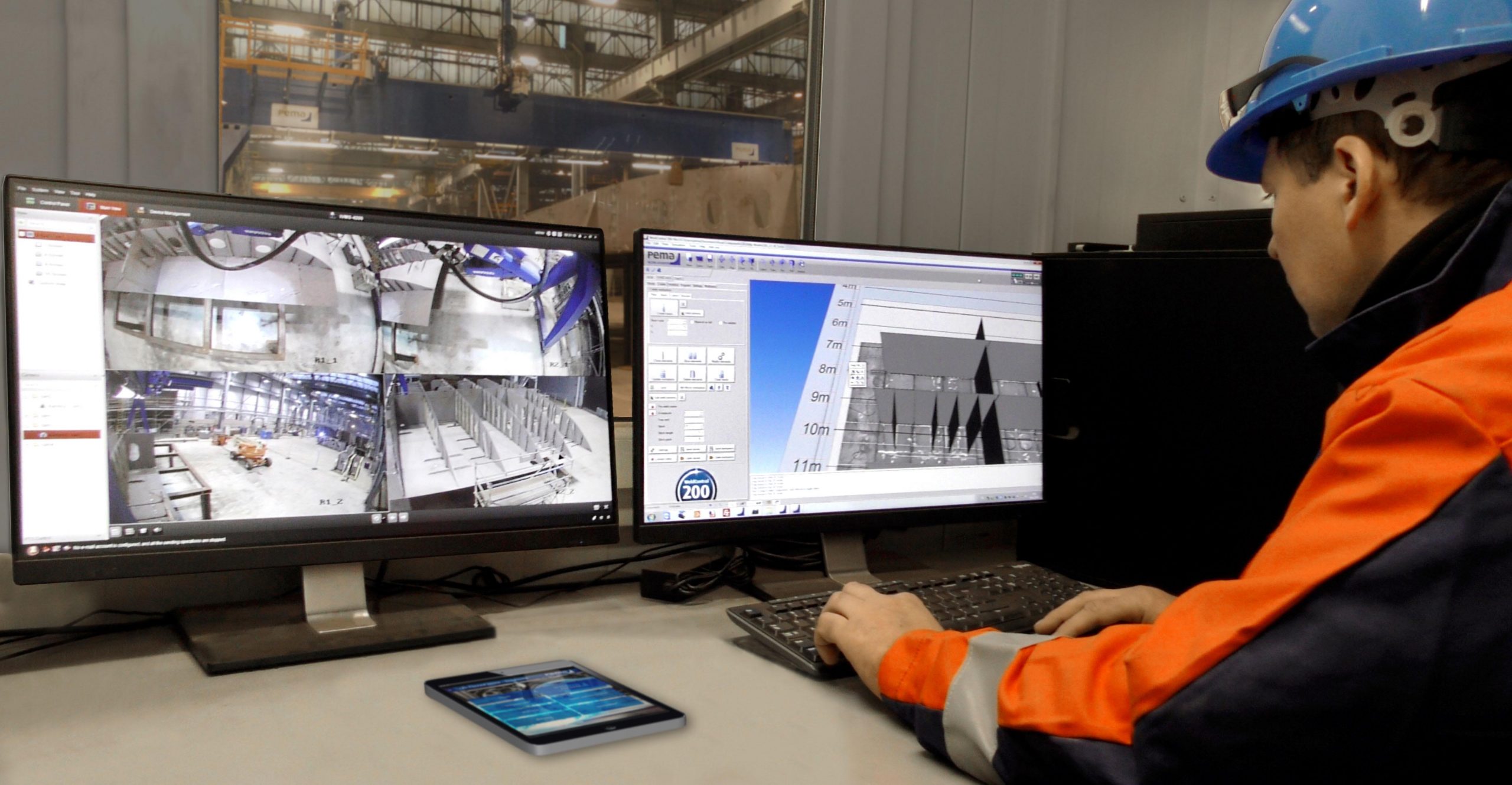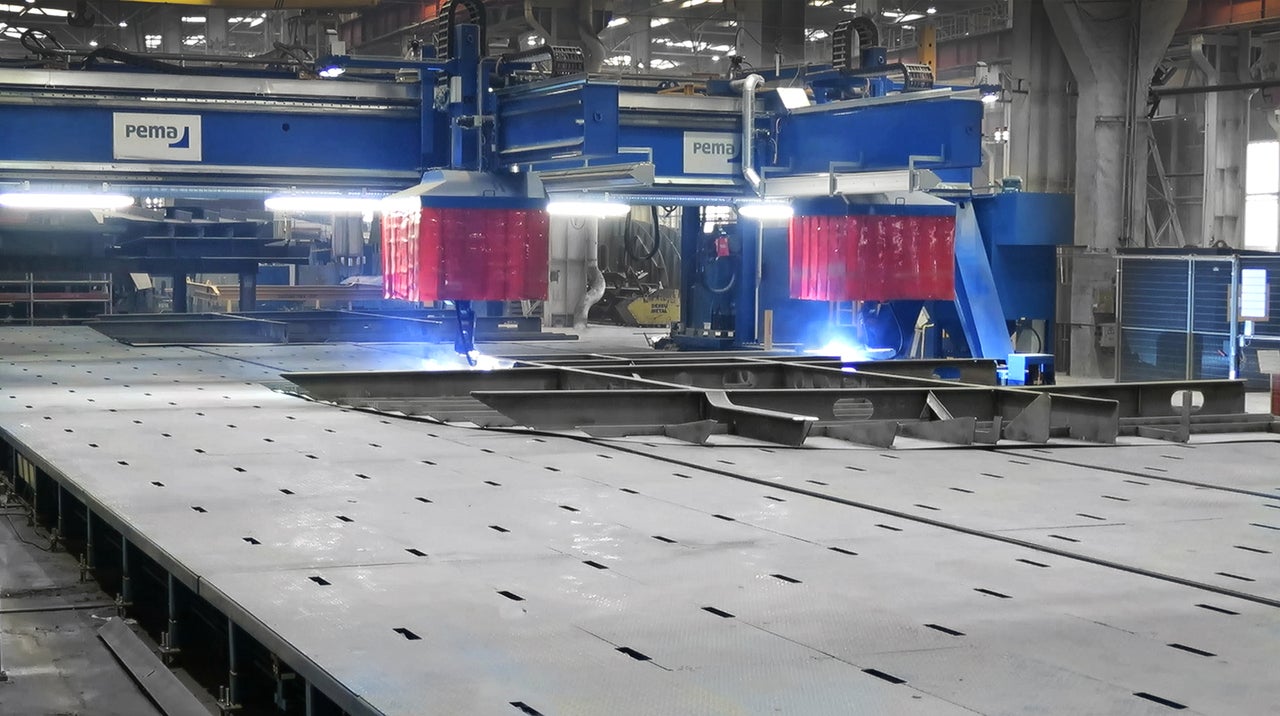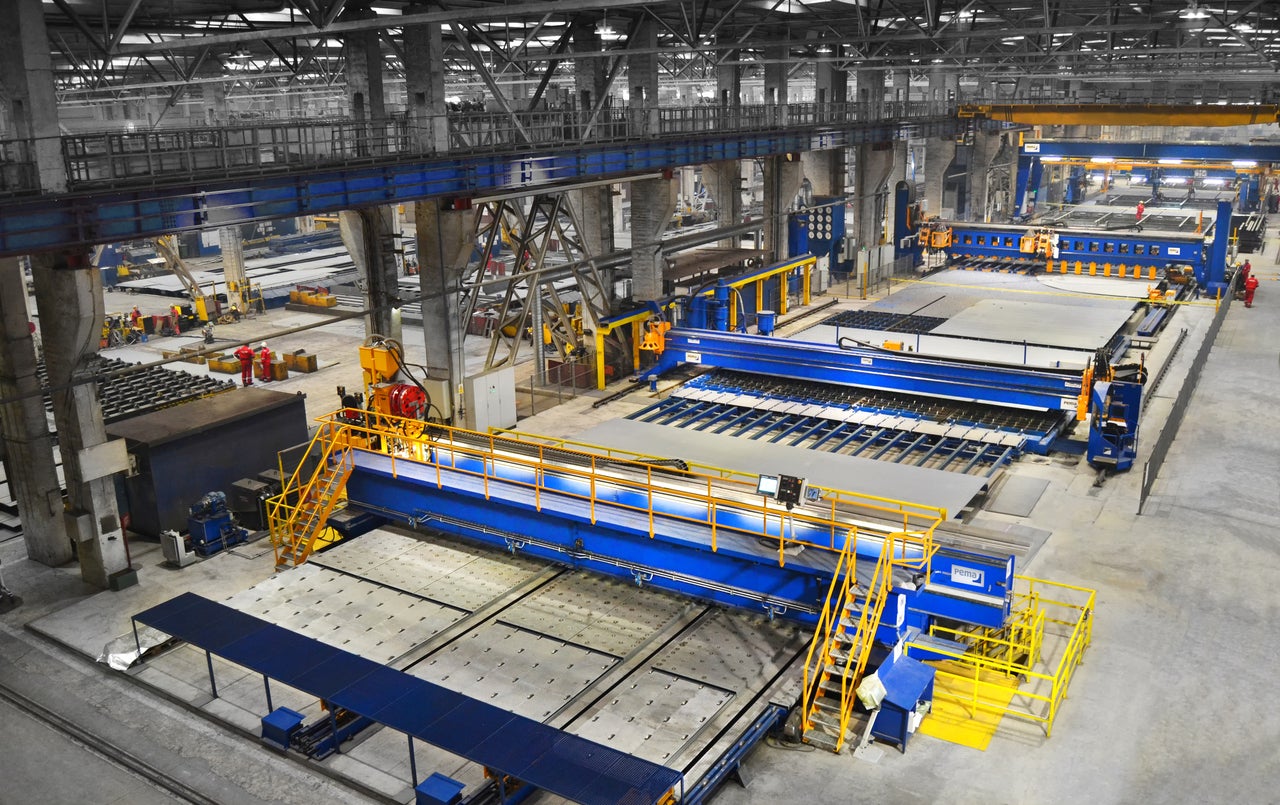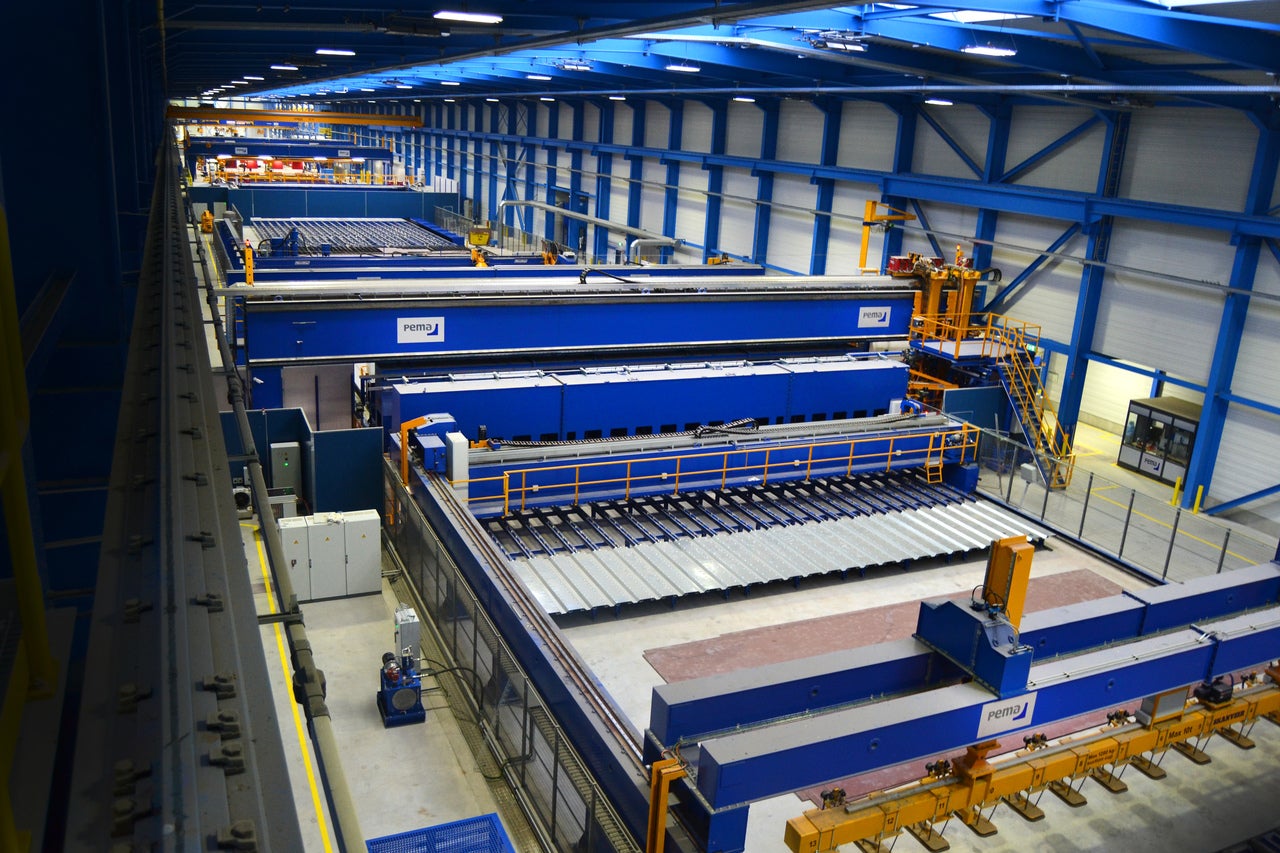 The PEMA shipbuilding production automation range is comprised of:
Plate and profile prefabrication systems
Flat-panel production lines
Double-bottom production lines
Subassembly production lines (micro, bulkhead)
Curved section panel lines
Robotised panel lines or production cells for welding or cutting
Production logistics and data collection software
Shipyard production, flow and capacity consultation
Through partners and its own organisation, Pemamek offers a wide range of consultation services, including the designing of yard production facilities, as well as flow and capacity studies.
Vision robot welding portal (VRWP)
The welding of panel lines, normally fillet welding, can be robotised by means of PEMA VRWP robot welding gantries. The VRWP gantries consist of a robust robot welding gantry with three external robot axes, six-axis welding robot, welding equipment and vision system-based robot programming.
Vision Programming is a unique online programming method which features:
Short programming time
Easy system support
High-utility ratio, thanks to working with real workpiece
No typical off-line programming problems
Cost savings
Superior welding quality
These user-friendly robot gantries can raise the productivity of a panel production line significantly, thanks to a very high arc time ratio (over 80%) and utility ratio (100%).
Also, other programming methods can be applied to robot welding. Macro or offline programming systems are available in various robot applications for shipyard production.
PEMA vertical welding station (VWS)
The PEMA VWS features a height-adjustable welding platform with four vertical welding arms.
Normally this platform is supported by a mobile gantry. The VWS is ideal in welding of vertical seams of double bottom cross-sections, high bulkheads or various frame sections.
Main features:
PLC-controlled automatic welding simultaneously with four welding heads
Online adjustment of welding parameters (V, A, speed), oscillation and jump-over of horizontal stiffeners
Motorised rotation of welding heads ±45°
Replaces 8-14 manual welders (or two robots)
Latest welding production and automation achievements
Stay updated of our latest achievements in the shipbuilding industry, but also other welding production and automation solutions by following our website, social media and press releases published on the Ship Technology website.